LTAG: The Book
Lacrosse: The Ancient Game Hardcover Book
Written by Jim Calder & Ron Fletcher
95 pages
Hand-painted illustrations by David Craig & Arnold Jacobs
Excerpt from the Preface
...This book, Lacrosse - The Ancient Game, adds to the sport's existing literature by exploring the game's vibrant cultural and historic roots. In the last forty years, the game has seen incredible growth, with the introduction of the plastic stick, the successful operation of professional teams, expansion of the game at the university, high school and local levels, and the accelerated push towards Olympic-level international competition.
As lacrosse aficionados, we love the growth that the game is currently enjoying. It is a special game - unique in the world - really the only existing team sport that is spiritual in nature. You feel that magical difference almost immediately when you pick up a stick for the first time.
In response to this growth, it is important that we respect the game and acknowledge the traits that make it special. This respect comes through knowing the history and culture. Once we understand that we are part of this remarkable history, we may develop a passion and love for the game that allows us to take it to a higher level.
Page Samples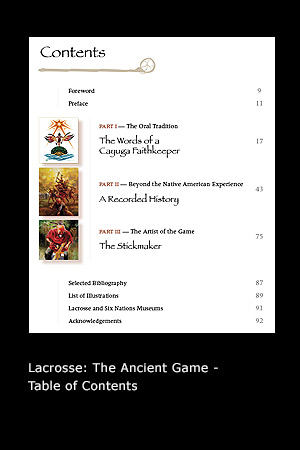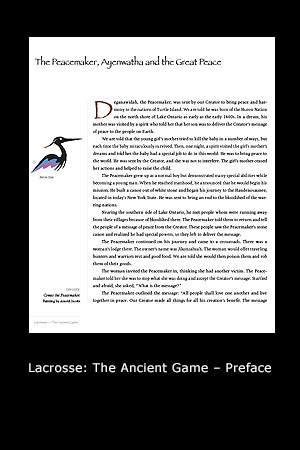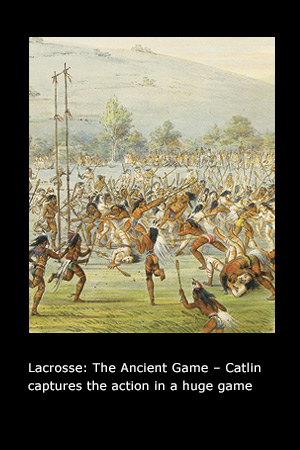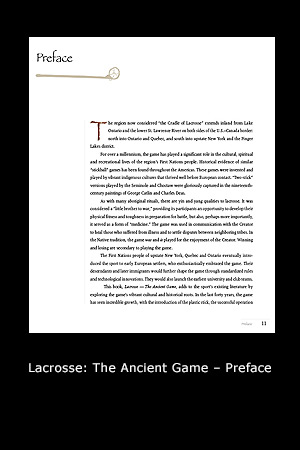 BUY THE BOOK
Payment Instructions
Payment for any of the books can be made through e-transfer. Please indicate the book(s) you are purchasing to "james.calder2@sympatico.ca" or by cheque to "T.E.C. Inc.". Cheques should be mailed to:
T.E.C. Inc.
3085 Kingston Road,
Unit 106
Toronto, Ontario, M1M 1P1
Allow up to 3 weeks for delivery.
Shipping rates are for Canada and US only.

For International deliveries please contact us at:
james.calder2@sympatico.ca